Meet Matt
---
"
"Mathew Mossburg was a prince of Annapolis – a young, ambitious, scrappy member of the Maryland House of Delegates in the mid 1990's, gregarious and popular with his colleagues, serious about policy and savvy about politics."
— Maryland Matters
---
Legislative Accomplishments
 U.S. House of Representatives Candidate Matt Mossburg is no stranger to advocating for the rights and perspectives of all Marylanders.  As a former business owner and state delegate, Mr. Mossburg understands first-hand the challenges and opportunities faced by citizens and businesses in the 6th Congressional District.  From 1995-99, former Del. Mossburg worked across the aisle to assist families in paying for college, reducing income taxes and creating a better environment for business in Maryland.
Mr. Mossburg served a number of committees, including the Economic Matters Committee, the Appropriations Committee, the Commerce and Government Matters Committee, and the Special Joint Committee on Competitive Taxation and Economic Development.  As a state legislator, he partnered with colleagues across the aisle to establish the Maryland Pre-Paid Tuition Savings Program, the now very successful and popular 529 College Savings Programs.
Fighting Opioid Abuse 
Most recently, he provided critical testimony during the 2017 session of the Maryland General Assembly, ensuring passage of Governor Larry Hogan's package of bills to combat the opioid crisis. It is Matt's personal experiences that have fueled his desire to re-enter the political arena. After struggles with drug and alcohol addiction, he is passionate about changing the narrative that surrounds addiction, and making practical, effective treatment options available to the millions affected by the opioid crisis.
Professional / Personal Experience
Following his tenure in the Legislature, Matt worked as a Senior Director for the National Association of Manufacturers, passionately advocating for the backbone of American industry. But it was Matt's successful work in the State Legislature that expanded opportunities for individuals and businesses in the state of Maryland, specifically assisting families to pay for college, reduce taxes for Maryland's families and create a stronger business climate.
In his spare time, Matt volunteers at the Fredrick Rescue Mission, a faith-centered residential recovery program that provides clothing, practical assistance and hope to those who face poverty, chemical addiction, and homelessness.  He is also an active member and volunteer for Celebrate Recovery, a Christ-centered recovery program with groups nationwide.
Matt holds a Bachelor of Science degree in economics from Georgetown University.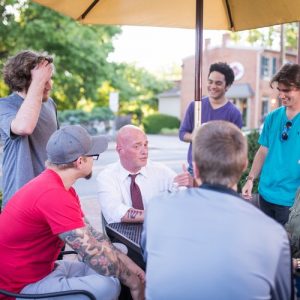 ---
"
"Politics is what I do; recovery is who I am."
— Matt Mossburg
---